THE STUDY
A placebo-controlled, randomized, double-blind, multi-centered clinical study (n=34).
The study enrolled healthy subjects who were 18-55 years of age and expressed a desire to improve the appearance of cellulite. Subjects had moderate bilateral thigh and buttock cellulite graded as Stage II or III on the Nurnberger-Mueller scale.
This double-blind study randomized patients to undergo treatment with the 3LT® device or a sham treatment. Nineteen subjects in the 3LT® group achieved a decrease of one or more stages on the Nurnberger-Muller grading scale versus three subjects in the sham treated group who received no decrease on scale.
Subjects treated with the 3LT® device also received a significant decrease in combined baseline thigh circumference at the (2) week end point and (6) week follow up versus no change for sham treated subjects. None of the participating subjects reported a deviation from baseline diet, exercise or medication use during the study that would impact study measurements.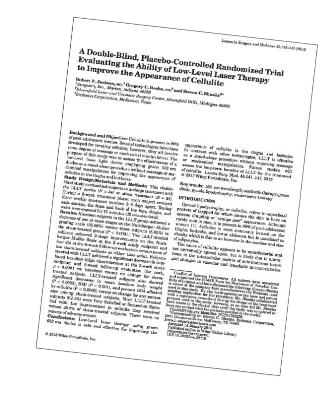 Copyright © 2019 Kanpeki Medical. All Rights Reserved.